CAVALIER HISTORY
During the sixteenth century, a small type of spaniel was popular among the nobility of England. The people of the time believed that these dogs could keep fleas away, and some believed they could prevent forms of stomach illness. These dogs were sometimes called the "Spaniel Gentle" or "Comforter", as ladies taking a carriage ride would keep a spaniel on their lap to keep them warm during the winter.
King Charles ll loved these little dogs, and wrote a decree that the King Charles Spaniel should be accepted in any public place, even in the house of parliament. This decree is still in existence today.
The red and white or blenheim coloured spaniel,was extensively bred at Blenheim Palace by various Dukes of Marlborough.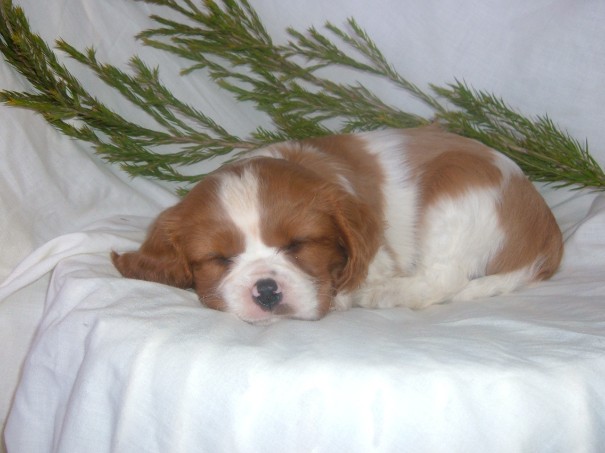 CAVALIER CARE
Your dog must always have access to cool clean water and shade. They don't do so well in the heat.
Vaccinate and worm regularly. Your vet can advise on timing and the best product for your dog.
Provide a well balanced diet and don't over feed as Cavs easily gain weight.
Bathe your dog about every month, and dry the coat and inside the ears straight away. Don't leave the coat wet especially in winter.
Every Day Care;
Brush the coat to prevent the feathering from matting and tangling and to remove any grass seeds.
Cavaliers need attention and affection, to be included in your daily activities, and would appreciate a walk in the cool of the day, on a lead when near traffic.
Always check for ticks and fleas.
Weekly:
Check inside the ears for signs of mites and infection. Wipe clean with baby oil.
Check eyes, keep teeth tartar free and clip nails when neccessary.